- - - - - - - - - - - - - - - - - - - - - - - - - - - - - - - - - - - - - - - - - - - - - - - - - - -
Deep Rooted Music, LLC
P.O. Box 1324
Sumner, WA 98390
(253) 826-2115
Feel free to
email me
with lesson plans, comments, and suggestions.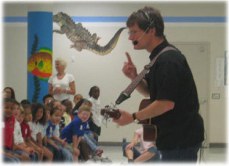 As a former elementary teacher, author, widely published poet, and award-winning songwriter, I would love to share the day with your students as we take a fun look at the writing process through music and poetry.
Visit my web site
for information regarding author visits, assemblies, & workshops.
Happy tales to you!
Eric Ode
- - - - - - - - - - - - - - - - - - - - - - - - - - - - - - - - - - - - - - - - - - - - - - - - - - -